Spotlight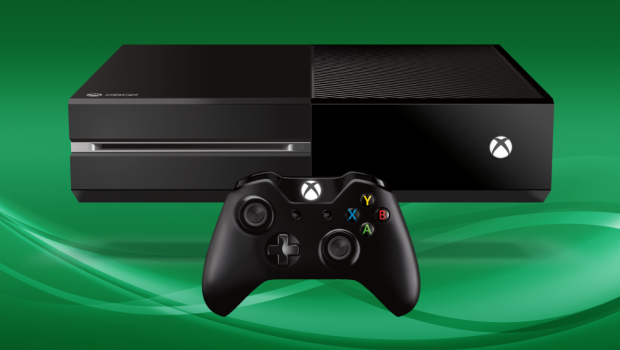 Published on June 1st, 2016 | by admin
Xbox Betting Sites : 5 Xbox-Friendly Sportsbooks to Bet on the Superbowl
Alright, so you're sitting at home playing Madden when the clock strikes five minutes to kickoff. You realize, you haven't placed your wager on the biggest game in sports. The odds are in your favor and there's easy money to win. You're currently fixing the prices of hot dogs at the stadium in your franchise mode and have to leave the screen. You smack the X and head to your browser.
Now, considering you're holding a controller and not a mouse, what sportsbook will provide you with the easiest and quickest route? Let's tackle this problem head on.
Xbox Betting Sites : Xbox-Friendly Sites to Bet on Superbowl
1. TopBet Sportsbook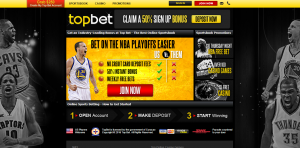 Speed: The TopBet interface is very quick. So if you're planning on getting your bets in in an immediate rush, it's definitely a doable task.
Deals: The website offers some great promotions. They are the only ones we've found with a $250 Max Bonus and a minimal rollover requirement immediately right when you sign up.
Lasting Appeal: TopBet is definitely a site that you'll return to. It's easy to navigate with it's color differential and typically has a nice assortment of lines and odds.
2. BetOnline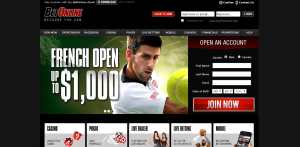 Speed: BetOnline is a fairly responsive website. It is good for sportsbook lines, although they are a little difficult to decipher.
Deals: BetOnline offers a 25% Bonus to new customers, although there are quite a few conditions that aren't mentioned when you sign up with the deal.
Lasting Appeal: BetOnline delivers what it needs to. It offers lines and offers betting. The betting ticket isn't meant for first-timers or even amateur bettors though. It's a little hard to maneuver. Overall a nice layout for Super Bowl Sunday though.
3. Sportsbook.ag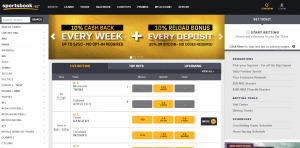 Speed: Sportsbook.ag does have a bit of speed to it and it is fairly responsive. Their downfall is not in the speed, it's in the next category.
Deals: The speed is there, but the promotions just aren't. Sportsbook.ag does have a 10% cashback offer, which comes in well below BetOnline's 25% and TopBet's $250.
Lasting Appeal: It's a weird thing, we don't love a page that's too dark, but we also didn't love this page which was too light. The all white constant background came off kind of elementary. With that said, it didn't have a very professional feel, which is what you'll want and need on the day of the big game. Confidence and trust is key!
4. Bovada
Speed: Bovada moves a little slow. All you have is your controller and it's not very responsive, so you need a quick site with minimal clicks. Bovada doesn't meet these requirements.
Deals: Bovada offers a $200 Max Bonus which lands them fourth on our list and really doesn't rank them near the main contenders.
Lasting Appeal: As a sister site of Bodog, you'd think it would stand out above the pack, especially for Super Bowl Sunday, but it really doesn't when using your Xbox browser.  Far too many clicks to get the job done.
5. Bookmaker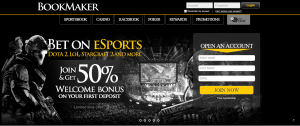 Speed: Bookmaker's speed is a bit of an issue. They offer quite a few different kinds of bets, which is great. The only issue is the site can be a little too responsive and you'll end up clicking the wrong option.
Deals: Bookmaker offers a 50% bonus up to $300 which is nothing short of brutal. We like this site for its clear graphics, but it lacks when it comes to enticing promos.
Lasting Appeal: If you're rushing to get a bet in, you're in trouble. Too many options and too many quick clicks. We don't advise it, but it is very pretty.