NFL Futures Odds Update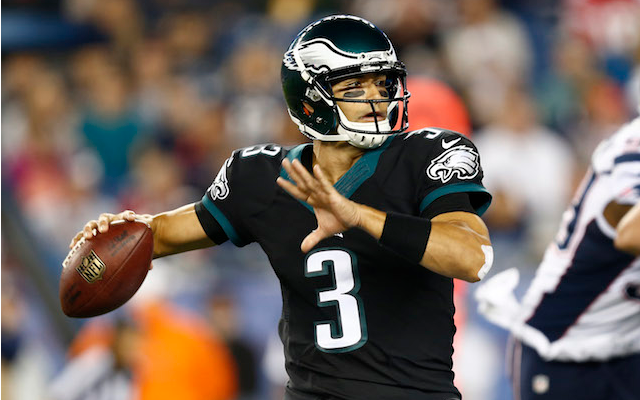 Published on November 14th, 2014 | by Elizabeth Fisher
Super Bowl Odds Update – NFC QB Shakedown
The Arizona Cardinals and Philadelphia Eagles are flying high with the two best records in the NFC at the moment. The Cardinals improved to 8-1 with another win against the St. Louis Rams, while the Eagles pounded the Panthers on Monday Night Football to go to 7-2 on the season.
However, despite their conference-leading records, both teams will have to play through the rest of the regular season without their starting quarterbacks.
2014 NFL Futures Odds Update
The Eagles' Nick Foles broke his collarbone in their Week 9 win at Houston, while Carson Palmer tore his ACL against the Rams. Foles could be set to return some time close to the playoffs, but the season is well and truly over for Palmer.
The Eagles' and Cards' possible Super Bowl hopes are now in the hands of backups Mark Sanchez and Drew Stanton, who will now lead their respective offenses for the foreseeable future. However, the odds reflect a lack of confidence for either quarterback to lead any potential Super Bowl triumph. The Cards' odds rose to +1,200 from +1,000 prior to Palmer's injury, while the Eagles are at +1,400.
But don't be too quick to dismiss either quarterback's ability. Stanton led the Cardinals to two wins earlier in the season when Palmer was sidelined with a nerve issue. Sanchez, on the other hand, threw for 332 yards with two touchdowns in his first start of the season against the Panthers.
Sanchez is also an experienced playoff performer. He's 4-2 lifetime in the playoffs after leading the New York Jets to consecutive AFC Championship Games in 2009-2010.
While the Eagles and Cardinals adjust to their new quarterbacks, the Seattle Seahawks and Green Bay Packers, led by their own Super Bowl-winning QBs in Russell Wilson and Aaron Rodgers, respectively, are co-favorites at +700 to win this year's championship out of the NFC. Both teams are currently 6-3, but they will be eager to pounce on any slip-up from the Eagles or Cards in the coming weeks.