NFL Futures Odds Update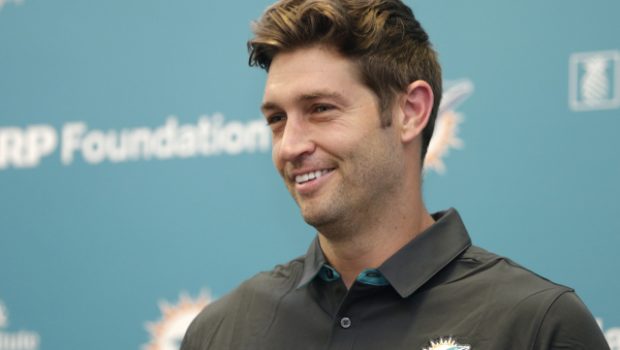 Published on August 9th, 2017 | by Perry
Super Bowl 52 Odds Update for 2017-18 NFL Season – August 8, 2017
As fans, we don't have to be in great cardiovascular shape to cheer for our teams. That being said, your team's quarterback doesn't share the same approach to health. Unless of course you're part of the Miami Dolphin faithful.
NFL Odds Update for Super Bowl 52 – Miami takes a hit
It's not looking like a fair game anymore for the rest of the NFL with the way the defending Super Bowl champions, New England Patriots, are being blessed. Apart from having arguably the strongest roster with so little discernable weaknesses heading into the new season, their schedule has seemingly became easier after division rival, the Miami Dolphins, have lost Ryan Tannehill to injury.
Sure Tom Brady is old, but the same Dolphins that we just mentioned would not hesitate adding 10 degrees more to their city's normal temperature if that means a year of service from Brady. The Pats have got a new shiny, dangerous weapon downfield in Brandin Cooks and a healthy Rob Gronkowski back. If it's beginning to sound like a 16-0 season again for the Pats, maybe that's just what's going to happen. All told, the Patriots remain a mighty favorite to win it all again with odds of +300 on most online sportsbooks.
Speaking of Miami, the loss of Ryan Tannehill definitely sucks for the team. Not only did the Fins lost the most important player on the team, they also replaced him with probably the most disinterested individual the quarterback market has to offer in former Chicago Bears signal-caller, Jay Cutler. Early preseason odds had the Dolphins priced at around +4,000 to win the Super Bowl. Today, those odds have shot up to +6,000. It probably stings for Dolphins fans to hear this, but the success of their team is largely dependent on how good Cutler is going to play.
Meanwhile, let's head over to the NFC and inspect a bit what's happening to the Eagles. Philadelphia is one of the most intriguing clubs entering the new season. Carson Wentz enters his second year in the pros being pampered by Philly's management with much better talents around him. The Eagles got wide receivers Alshon Jeffery and Torrey Smith this offseason, and signed running back LeGarrette Blount, giving the Eagles enough material to bend or break opposing defenses. Now, if only they could fix their defense, particularly their secondary. Odds for the Eagles to win the Super Bowl is at +5,000.