NFL Futures Odds Update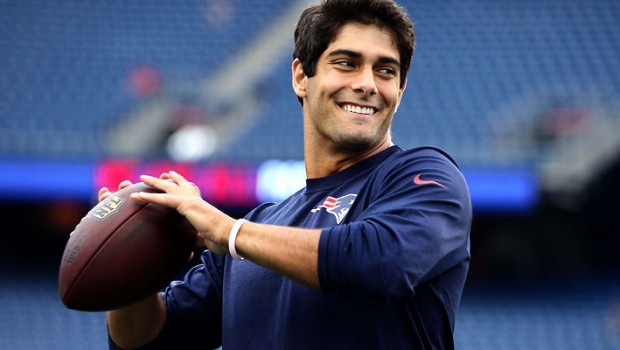 Published on April 28th, 2016 | by admin
Super Bowl 51 Odds Update for 2016-17 NFL Season – April 28, 2016
You're probably wondering to yourself, "Who the hell is that guy?"
That's Jimmy Garoppolo, the current starting quarterback of the Super Bowl 51 favorited New England Patriots. Will he start the season for New England? Probably not. But, for now, because Roger Goodell has reinstated Tom Brady's Deflategate suspension – he's the next guy in line.
Super Bowl 51 April Odds Update
We're still five months away from kickoff and things have not changed. Despite the New England Patriots giving away defensive end Chandler Jones to Arizona Cardinals (for free pretty much) and the Seattle Seahawks losing more than they've gained this off-season, the Pats and Hawks are still favored to face each other in the final game on the NFL schedule in 2017.
New England Patriots (+650)
TopBet online sportsbook has the Pats winning their second Super Bowl title in three years in this SB49 rematch. What will set the East Coasters over the edge will be there dominant offense, yet again. The Pats were a dinged up team in the 2015-16 Playoffs. They were without standout running back Dion Lewis and first and second string wide receivers Julian Edelman and Danny Amendola at times heading into and throughout their postseason run.
That won't be the case in 2016-17. They'll all be healthy along with the always dominant tight end Rob Gronkowski leading the way for the best offense in the NFL. Their defense isn't a pushover by any means but the Pats success is based on keeping their D off the field.
Seattle Seahawks (+900)
Over the past two years the Seahawks lost Super Bowl champions Bruce Irvin, Byron Maxwell and Brandon Mebane from their defense. However, they did bring back Brandon Browner this year. The once Seattle cast away, was brought in to try and shore up the losses by adding some major size to their secondary. Browner is a 6'4, 221 pound beast and was a big part of the Pats Super Bowl winning squad in 2015.
On offense, the Hawks will be led once again by quarterback Russell Wilson. Their run game will look a little different though as Marshawn Lynch has "somewhat" retired. The reins are now in the hands of Thomas Rawls, their diamond in the rough rookie who tore up the turf last season during the Beast Mode's injury absence.
The Hawks are favored to take the NFC ahead of the Arizona Cardinals and Green Bay Packers with a +500 oddset.
The Pats are favored to win the AFC ahead of the Pittsburgh Steelers and Cincinnati Bengals with a +325 oddset.