Super Bowl Betting News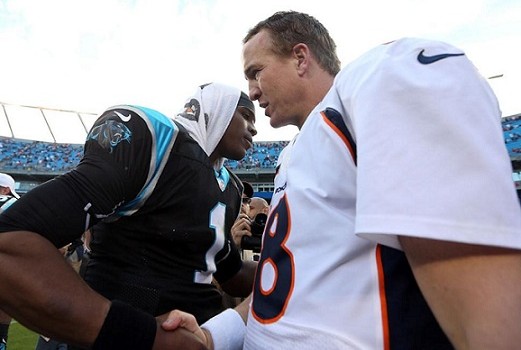 Published on January 27th, 2016 | by Mark
Super Bowl 50 Prop Bets Updates – January 27, 2016
The road to Santa Clara has officially begun, as the Denver Broncos and the Carolina Panthers won their respective conferences this past Sunday to advance to Super Bowl 50 on February 7.
Over in the NFC, Cam Newton and his Panthers stormed to an early lead and never looked back against the Arizona Cardinals. Newton had another clinical performance by scoring four offensive touchdowns in that game, which rightfully makes him the runaway favorite to take home the Super Bowl MVP Award.
Meanwhile, Denver's Peyton Manning once again prevailed over his long-time postseason rival in Tom Brady and his New England Patriots, but Manning's own numbers weren't that impressive, and the Broncos basically won the AFC behind its lock-down defense more so than their offense. That would explain why Manning is slightly behind Newton in the running for MVP honors, yet a lot of people are still optimistic that the future Hall-of-Famer will manage to put together one last game for the ages before possibly hanging up his cleats.
Speaking of defense, the Broncos and the Panthers have boasted two of the most daunting units throughout this season, and their key players could very well take home the individual hardware to complement their championship title (Luke Kuechly or Von Miller, anyone?). And let's not forget the running backs and receivers on offense, who make their quarterbacks look good and are more than capable of outshining their field generals come game time.
There are a bevy of talents worth banking on in this year's edition of the Super Bowl, and we've got all the odds for the MVP frontrunners, sleepers and long shots below.
Super Bowl 50 Prop Bets Update: The Gold Rush in Santa Clara
Here's how the most recent Super Bowl 50 MVP prop bet looks like heading into Super Bowl Sunday:
Quarterbacks:
Cam Newton (Carolina): -150
Peyton Manning (Denver): +325
Running Backs:
C.J. Anderson (Denver): +1,600
Jonathan Stewart (Carolina): +1,600
Ronnie Hillman (Denver): +3,000
Receivers:
Greg Olsen (TE – Carolina): +1,500
Demaryius Thomas (WR – Denver): +2,000
Ted Ginn Jr. (WR – Carolina): +2,000
Emmanuel Sanders (WR – Denver): +2,500
Corey Brown (WR – Carolina): +3,000
Owen Daniels (TE – Denver): +4,000
Devin Funchess (WR – Carolina): +8,000
Jerricho Cotchery (WR – Carolina): +8,000
Defense / Special Teams:
Luke Kuechly (MLB – Carolina): +1,200
Von Miller (OLB – Denver): +1,200
DeMarcus Ware (OLB – Denver): +2,500
Josh Norman (CB – Carolina): +2,500
Derek Wolfe (DE – Denver): +5,000
Aqib Talib (CB – Denver): +6,000
Charles Johnson (DE – Carolina): +6,000
Chris Harris Jr. (CB – Denver): +6,000
Kawann Short (DT – Carolina): +6,000
Graham Gano (K – Carolina): +8,000
Thomas Davis (OLB – Carolina): +8,000
Other:
Field (any other player): +500