NFL Futures Odds Update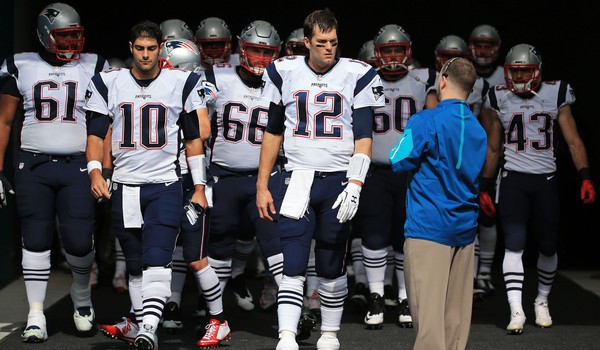 Published on January 12th, 2016 | by sbbadmin
Super Bowl 50 Odds Update for the Divisional Round of the 2015-16 NFL Playoffs
With the dust of the NFL Wild Card all settled, it's now time for the likes of the New England Patriots, Denver Broncos, Arizona Cardinals, and Carolina Panthers to get back to work. It's going to be another crazy week of playoff football, but before we dive into that, let's first have a brief look at each of the upcoming matchups.
NFL Divisional round update – Survival mode
AFC Divisional Playoff – Kansas City Chiefs (+700) at New England Patriots (+400)
Somebody stop these Chiefs! Kansas City continues its magnificent turnaround from a 1-5 start this season, when they handed Houston a 30-0 merciless beatdown in the AFC Wild Card game last Sunday. Alex Smith and company, however, will have to topple the defending champions New England Patriots in order to continue their improbable march to Santa Clara.
The Pats didn't look like the reigning Super Bowl champions over the last two weeks of regular season, losing to the Jets and the Dolphins in back-to-back fashion, but are well rested and are at their healthiest in weeks come Saturday. As for Kansas City, it fears that Jeremy Maclin might be available against the Patriots after going down with a knee injury in the AFC Wild Card game.
The Chiefs' secondary would play a crucial role in this game, as Eric Berry and company are about to take on the Patriots' passing offense that ranked fifth in the regular season with 286.7 yards per game.
Kansas City is 5-3 ATS in road games this season, while the Patriots are 4-1-3 ATS at home.
AFC Divisional Playoff – Pittsburgh Steelers (+1,000) at Denver Broncos (+525)
Peyton Manning is set to take the driver's seat of Denver's offense back again after missing quite some time in the regular season with a foot injury. With Manning in control, the Broncos are looking to avenge their 34-27 loss to Pittsburgh back in Week 15, when Denver had Brock Osweiler under center. The Broncos are too classy of a franchise to celebrate an injured opponent, but it would be a big help for them if Ben Roethlisberger will be ultimately ruled out in this coming Sunday's contest. Big Ben is currently nursing a sprained AC joint in his right shoulder. The Steelers are 2-1-1 ATS in their last four road games, while the Broncos are 3-1 SU in their previous four contest in Mile High City.
NFC Divisional Playoff – Green Bay Packers (+1,500) at Arizona Cardinals (+375)
Cheeseheads everywhere had a big sigh of relief on Sunday, when Green Bay averted an embarrassing playoff loss to the Redskins with a 35-18 win. Even with that victory, the, the Packers are still labelled seven-point underdogs for their Divisional Round matchup with Arizona.
It's not always that the Packers are treated 'dogs by at least seven points, but bookmakers are certainly not yet sold on Green Bay following the team's borderline disastrous second half. Plus it wasn't long ago when the Packers were taken to the woodshed by Arizona back in Week 16, when the Cards eked out a big 38-8 win at home over Aaron Rodgers and company. The Cardinals are fresh off a bye and are looking to paralyze Rodgers with their stop unit that ranked fifth in the regular season in scoring defense (19.6 points per game) and fifth in total defense (321.7 yards).
NFC Divisional Playoff – Seattle Seahawks (+450) at Carolina Panthers (+450)
Sometimes, it's better to be lucky than good. The Seahawks definitely know this after escaping with a 10-9 win in the NFC Wild Card game against Minnesota. Seattle's road back to the Super Bowl is in peril again, however, as they're about to face No. 1 seed Carolina likely without Marshawn Lynch, who hasn't played a game since November 15. In any case, the Seahawks are counting on their defense to show up as it did in the last few postseasons. The Panthers, meanwhile, must be feeling ecstatic with news that top rusher Jonathan Stewart is all set to come back after sitting out three games due to a foot injury.