NFL Futures Odds Update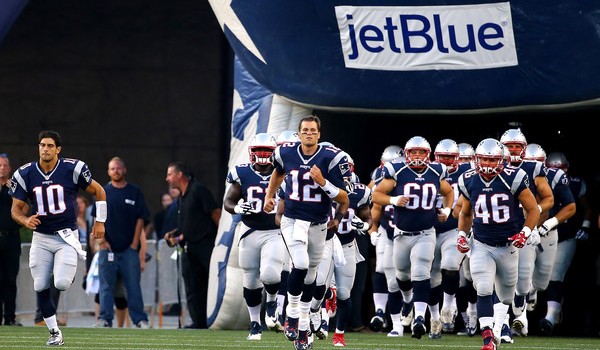 Published on October 14th, 2015 | by Alexander
NFL Odds Update for Super Bowl 50 – Movement for the Undefeated Teams Through Week 5 of the 2015-16 NFL Regular Season
After five grueling weeks of thrilling NFL action, only five teams remain undefeated. The Green Bay Packers are taking care of business in NFC North. The defending champs in the New England Patriots are playing hard and angry. Peyton Manning's Denver Broncos are thriving behind a rock solid defense. Meanwhile, the Atlanta Falcons and Carolina Panthers stand as the only unbeaten teams in NFC South.
NFL Odds Update for Super Bowl 50
The Green Bay Packers are looking unstoppable. Meanwhile, Tom Brady and the New England Patriots are looking like they have a stick up their behinds with blow out after blow out.
The Packers' and Patriots' respective success comes from the stellar play of their signal callers. Quarterback Aaron Rodgers shares a league-leading 13 passing touchdowns with Arizona's Carson Palmer to power the Green Bay offense, while Tom Brady has been on fire with the Pats with a league-leading 121.5 passer rating.
Back by their stellar quarterbacks, the Packers are the favorites to win Super Bowl 50 at +350 while the Pats are right behind at +400.
The Packers and the Patriots aren't the only undefeated teams in the league. The Denver Broncos, Carolina Panthers and Atlanta Falcons are also yet to suffer a defeat this season.
The Broncos rely on their solid defense, allowing a second-best mark of 15.8 points allowed per game, to mask a horrible early outing from Peyton Manning. Assuming Manning finds his stroke, the Broncos may be a steal at +950 with their awesome defense.
The Falcons are +1,500 to win it all at Santa Clara at the end of the season, despite having plenty of weapons that could explode for any given moment. Running back Devonta Freeman and wide receiver Julio Jones provide a solid one-two punch against opposing defenses. Meanwhile quarterback Matthew Ryan has a strong arm that could tear up secondaries in the league.
The Panthers don't get many props for being undefeated at +3,000 to win Super Bowl 50. But that could be because Carolina is yet to play Super Bowl runners-up, the Seattle Seahawks at CenturyLink Field in Week 6. Cam Newton, for all his super human-like moves and skills, is 0-4 in his career against the Seahawks.