Review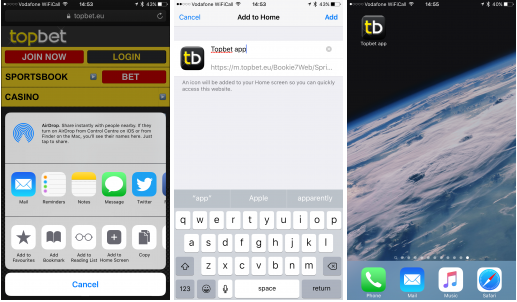 Published on May 26th, 2016 | by admin
Best Mobile Apps for NFL and Super Bowl Betting
NFL sportsbooks are now available on your smartphone. Which one will deliver the best bang for you buck though? Well, we're here to help you answer that query. We've taken a look at three of the strongest performing NFL betting apps and put them side-by-side. What we're grading – speed, deals and lasting appeals (sorry about the rhyme).
Best NFL Sportsbook and Super Bowl Betting Mobile Phone Apps
 #1 – TopBet Mobile
Speed – After scouring through about ten different games and various sports, we found that TopBet's app was very responsive and that we were never disrupted with any sort of lag.
Deals – TopBet featured the largest Max Bonus of any site we looked in to. There's a $250 Max Bonus that seems to be the go to. However, during the month of June they have begun advertising a $500 Max Bonus, which is unheard of! They also feature daily deals and refer-a-friend offers.
Lasting Appeal – We really appreciated the use of colors in the app. Some of the ones we scoured had only two colors or so and they became hard to maneuver. TopBet's app almost has a video game feel. It's definitely a crowd favorite.
See our TopBet full review here.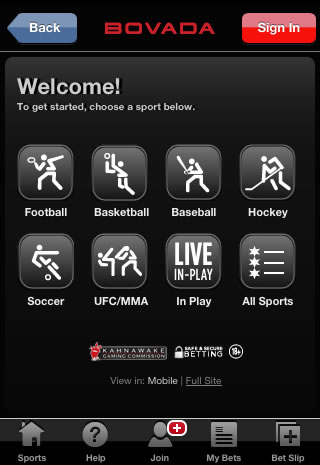 #2 – Bovada Mobile
Speed – Our experience with Bovada was a bit above average. There were no extreme speed issues except for when we changed to events that did not have lines up yet. For some reason the app lagged when we tried to go back to the main menu.
Deals – Bovada offers a modest $200 Max Bonus to their customers. The app also has a 4x rollover requirement for new customers, which is one of the worst we found.
Lasting Appeal – Bovada has a sleek setup, no question. The only problem is that everything looks the exact same. It's all light grey on dark grey with a few red buttons. The presentation was alright but the lasting appeal just wasn't there.
See our Bovada comparison here.
#3 – 5Dimes Mobile
Speed – 5Dimes mobile app was one of the better ones we found speed-wise. The only issue was the tabs were a little too sensitive. The pages kept changing immediately and they rarely took us to the page we requested.
Deals – What we found very strange was that 5Dimes does not accept some US players from certain states. We know that some states are banned from Daily Fantasy Sports betting, but it's pretty strange that 5Dimes sportsbook wouldn't operate either.
Lasting Appeal – The appetite was never really whet with this app. If you didn't sign up, you couldn't get in. So if you wanted to see the lines for the game, good luck. No register. No viewing. No good.
See our 5Dimes comparison here.
Our winner for all three categories would be the TopBet app. We did like the sleek look of Bovada's mobile sportsbook but we couldn't get past the limited color scheme.